VILLAGES OF ALSACE CHRISTMAS MARKETS SHARED DAY TRIP FROM STRASBOURG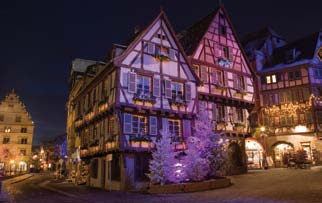 Duration: 7 Hours (approx.)
Location: STRASBOURG, GRAND EST
The arrival of the little wooden huts in the town squares of Alsace's towns and villages is also a major event. The Christmas markets mark the return of time-honored festivities. A world of delicious fragrances, delightful craft goods and lights quickly takes shape along the rows, where some surprising and mouthwatering discoveries await the markets' visitors.
This morning depart from Strasbourg and head towards Colmar. Christmas in Colmar's Historical town center means a historic setting made magical by amazing Christmas illuminations that blend perfectly with the wonderful lighting designed to enhance the town's heritage. The pedestrian city center with its major architectural treasures that stretch from the Middle Ages to the 19th century is decorated like in a dream, a veritable open-air theatre where the warm Christmas mood envelops the heart of the town. Here, enjoy some free time in the city to discover one or several Christmas Markets on your own, as the town holds 5 different markets.
Then, depart along the famous Alsace Wine Route to pass through some of the most beautiful villages of Alsace. The afternoon program will depend on the date of your tour. Eguisheim or Bergheim (Christmas Cribs tour) villages host a market every single day. On the 3rd/4th and 10th/11th of December, your stop will certainly include the Christmas Markets of Riquewihr or Ribeauvillé as this is when he Medieval markets are being held.
This full day tour will also include a wine tasting session in one of our carefully selected wineries so that you may have the opportunity, while in the region, to taste some of the most famous varietals this area produces. After the visits and wine tasting return to Strasbourg.