FREIBURG & THE BLACK FOREST PRIVATE DAY TOUR FROM COLMAR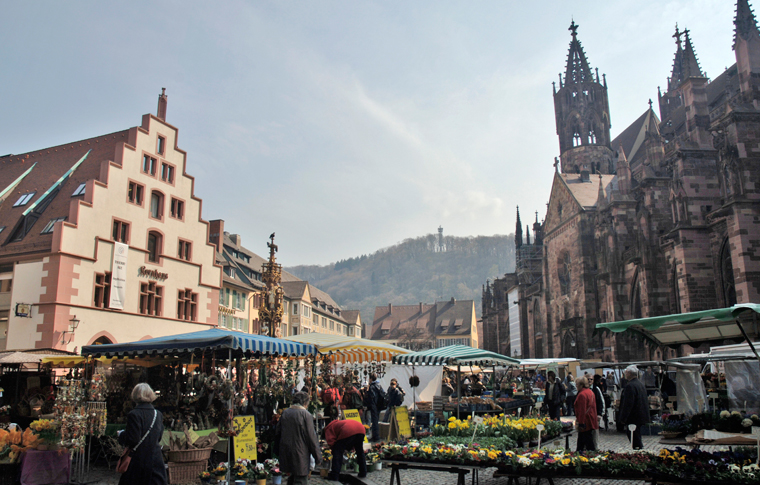 Duration: 8 Hours (approx.)
In the morning, we will come and pick you up at your centrally located hotel or accommodation in Colmar. Meet your English-speaking driver guide who will go over the program and itinerary of this private full day Freiburg & Black Forest day trip from Colmar. Then, board your air conditioned vehicle and begin to make your way to Southern Germany, across the Rhine River.
A Full Day Exploring the Best of Freiburg and the Black Forest
On this full day private tour departing from Colmar, cross the nearby border between France and Germany to discover the small city of Freiburg im Breisgau. The town is known for its ancient university, medieval minster (Cathedral), high standard of living and advanced environmental practices. The city, a famous university town, is situated in the heart of a major wine-growing region and is the primary entry point to the scenic beauty of the Black Forest.
Depart from your centrally located hotel in Colmar and head towards the town of Freiburg Germany. Follow your guide on a private guided walking tour through the cobblestone streets and reach the historic city center where the town hall is located. Dating back from the middle ages, the town Hall Square is where the statue of Berthold Schwarz is located – a Franciscan Monk who is said to have invented gunpowder circa 1350. This is also one of the squares where the annual Christmas Market takes place. The town is also home to a number of beer gardens and famous breweries such as the feierling brewery. Another attraction to visit is the remaining city gates the only testimony left from the Middle Ages. Close to the tourist office is the Augustinian Museum that dates back to the 13th century.
After some free time for personal discovery and lunch, head towards the scenic route of the Black Forest region. The most popular destination of Germany, drive through surprising landscapes with spruce forest in the North, Vines in the central area and lakes and mountain peaks in the south. Along the road, you will admire small quaint villages and breathtaking scenery. The Black Forest is also known to have been the setting for the Brother Grimm Fairy tale of Hansel & Gretel. This is also the birthplace of the world renowned cuckoo clocks. During the day your guide will make different stops so that you can make the best out of this attractive destination. At the end of this tour you will be transported comfortably back to your hotel in Colmar.
We also organize other tours to Germany such as a full day tour to Baden Baden from Strasbourg.