Villages of the Dordogne Private Half Day Trip From Sarlat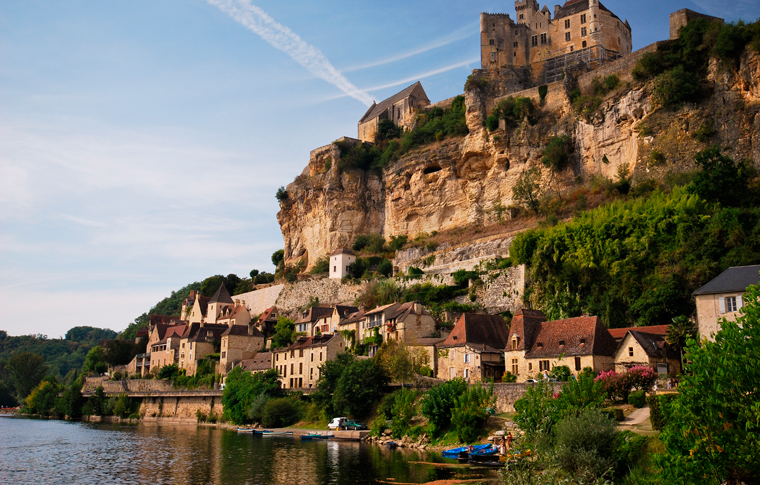 Duration: 4 Hours (approx.)
Location: SARLAT-LA-CANÉDA
Grab your camera and make a beeline for some of the Dordogne's most photogenic landscapes on this 4-hour small-group tour from Sarlat. Learn about the region's rich history as you visit the medieval town of Domme and explore the 12th-century castle of Beynac. Finally, drift down the Dordogne river onboard a traditional wooden Gabarre and admire the majestic châteaux that loom over the riverside.

Pick up at your accommodation in Sarlat or surrounding area.
In the morning or the afternoon we will come and pick you up at your centrally located hotel or accommodation in Sarlat la Caneda. Meet your English-speaking driver guide who will go over the program and itinerary of this private half day tour from Sarlat. Then, board your air conditioned vehicle and begin to make your way towards the Dordogne Valley. Listen to your tour guide explain the local culture & history as your small group begins to admire some of the most stunning landscape of the area.
A Perfect Half-Day Jaunt Through the Magic of the Dordogne
Today discover the breathtaking landscape and traditional villages of the Dordogne valley. First, drive to the beautiful village of Domme. With its trapezoid city plan, Domme is a bastide (a fortified medieval town) adapted to the surrounding terrain, and thus falling short of the rectangular city plan characteristic to Bastides. The village is classified as one of the "Plus Beaux Villages de France" ("The Most Beautiful Villages of France"). In 1307, Knight Templars were imprisoned in Domme while during the Hundred Years' War, the town was coveted by the English who first took it in 1347 and repeatedly changed rulers throughout the war until 1437 when it finally fell under French rule again.
Then drive to La Roque Gageac and enjoy a peaceful cruise on the Dordogne River on board an authentic Gabarre to admire mighty castles that line the river. The boat ride lasts about one hour (tickets not included) and comes highly recommended. You can also discover the Gardens of La Roque that benefit from micro-climate conditions and where local vegetation stands alongside more exotic plants such as Banana trees, agave and Bougainvillea flowers.
Finally, reach Beynac to admire the village and the Castle. This Middle Ages construction, with its austere appearance, is perched on top of a limestone cliff, dominating the town and the north bank of the Dordogne River. The castle was built from the 12th century by the barons of Beynac (one of the four baronies of Périgord) to close the valley. The sheer cliff face being sufficient to discourage any assault from that side, the defenses were built up on the plateau: double crenelated walls, double moats, one of which was a deepened natural ravine, double barbican. After the tour, return to Sarlat.